Roll over image to zoom in
Description
Give your laces a new twist with our screw on aglet kits.
4 pieces per pack (enough for one pair of laces)
Screwdriver included with every pack
Our aglets are designed to fit on almost all laces (some older thick rope laces may not work)
How to install:
Remove the screw from the aglet using the screwdriver
Place the metal aglet over the current shoelace aglet
If the current shoelace aglet is too long you will need to trim it with scissors, the screw hole of the metal aglet should sit just past the plastic aglet so the screw goes into the fabric.
Finalise installation by screwing the screw back into the metal aglet
Payment & Security
Your payment information is processed securely. We do not store credit card details nor have access to your credit card information.
Customer Reviews
Write a Review
Ask a Question
08/14/2020
Lee B.

Australia
03/24/2020
Joseph S.

Australia
Fiddly but worth the effort
The screw can be a bit finicky to get out and tighten. But that could just be due to my clumsy nature. Best to do it on a large flat surface so you aren't searching the couch or the carpet for the screw if you drop it like it did. Best part tho is that the screws can be found by a magnet so that's nice. I love the pop of colour they have given my Jordan 4 Black Cat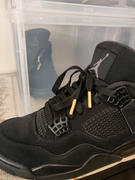 03/24/2020
Joseph S.

Australia
Fiddly but worth the effort
The screw can be a bit finicky to get out and tighten. But that could just be due to my clumsy nature. Best to do it on a large flat surface so you aren't searching the couch or the carpet for the screw if you drop it like it did. Best part tho is that the screws can be found by a magnet so that's nice. I love the pop of colour they have given my Jordan 4 Black Cat